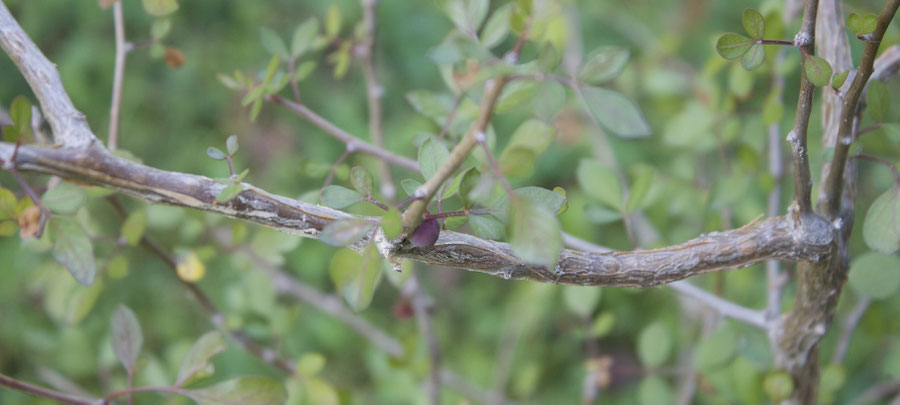 One of the most important remedies of the bible and Christian monastery medicine
Myrrh - the thorn bush of the desert - is one of the most important remedies of the Bible and belongs to the very beginning of the prehistory of Genesis 2, when God planted a garden in the middle of the desert.
He planted to trees in the centre of the garden (Genesis 2, 9):
When you ask how to heal with myrrh, you have to remember that the Bible was written a long time ago. There were no natural sciences like today and no conventional medicine either. You must learn to think in the way of alternative medicine and homeopathy.
You must learn to see not only with your outer eyes but with the eyes of your heart. Myrrh is planted in the center of the garden - this means: When you see Myrrh with your inner eyes, you see the center of your heart.
Welcome to learn about Myrrh from the bible!
A thorn bush in the desert
Myrrh is the fragrant resin of a small thorny tree that grows wild in the Arabian Desert, Kenya and Tanzania. It is also at home in the steppe. On the outside it looks like an ordinary thorn bush. If you break off a branch, it smells intensely resinous and very wonderful. That's how you recognize it. 
The plant needs a lot of heat and little water. You can hardly buy them here in Germany. It is only allowed outside in winter. I bought my plant in a seed shop for 40 euros, but it hasn't been there for years. For the southern countries myrrh is not a problem. But to my astonishment it is almost unknown. It is infinitely valuable, especially in the time of Corona.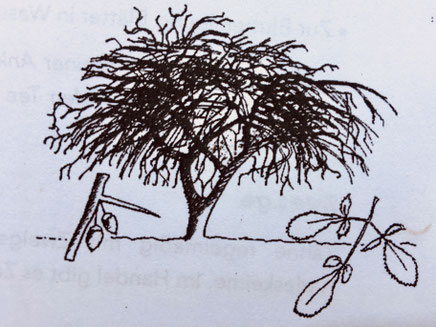 Myrrh Plant
In this picture you can see a line drawing of the whole plant. It was able to spread freely, mostly simple thorn bushes. On the left are the thorns with the small green - brown seeds that turn red when they mature. On the right the delicate leaves. The real distinguishing feature is the wonderful fragrance. It emanates when you break off a branch.
The delicate fragrance repels insects and birds of prey. I love this plant very much. Since I see it in my living room, it has changed the whole climate of the room with its delicate fragrance. It blooms beautifully with small white flowers.
---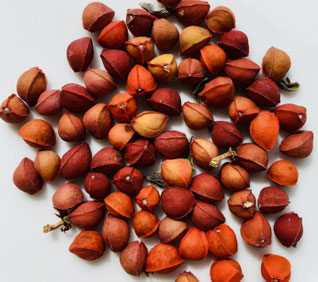 Seeds
I harvested this seed from my myrrh plant. I want to take him to Tanzania and sow there. It smells wonderful with its own tart character.
---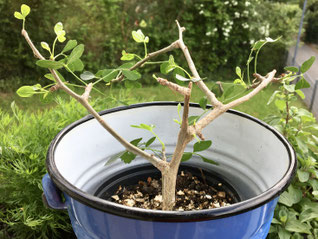 Pull a cutting
For an offshoot, you simply put a branch in the ground and keep it moist at first. It takes root quickly and easily - no problem. Myrrh likes calcareous soil. So I just crush eggshells and add them to the soil as a natural fertilizer.
In tropical countries you can easily multiply the plant with cuttings and plant it around your house as a living fence. This is very practical because the thorns keep the cattle out. 
---
Win Myrrh for medicine
If you carve the trunk of the thorn bush with a knife, a rubber resin comes out, runs down the trunk and freezes in the air. It looks like tears.  In ancient times, myrrh was so valuable that it was balanced with gold. But myrrh is still very valuable today. It is usually used to make expensive perfume, but also many remedies.
After the rainy season, around 3-4 kg of myrrh are harvested from a shrub each year.
You can now use myrrh for smoking, for essential and vegetable oils and creams, and in alcohol for tinctures and homeopathy.
---
Myrrh is one of the most important remedies in the Bible and belongs to the very beginning of the prehistory of Genesis 2, when God planted a garden in the middle of the desert.
When you ask how to heal with myrrh, you have to remember that the Bible was written a long time ago. There were no natural sciences like today and no conventional medicine either. Nevertheless, we know that myrrh is an ancient remedy from other ancient medicines that we still know today. It is a very important historical source for African traditional medicine, because myrrh is one of the gifts of the three wise men from the "Orient" to Jesus 2000 years ago.
When we discuss how we can heal with myrrh, you need to be aware that monastery medicine doesn't just heal the body. This medicine  always has the soul in view and above all it  heals with the heart - just with  love. That is why it organizes and thinks differently than we do. We have to ask about the nature of the remedy.
---
See with your inner eyes
If you want to have access to the understanding of the Bible from myrrh, you have to think from the heart. You have to learn not only to see with the outer eyes, but to see with the inner eyes of the heart and to hear with the inner ears.
The famous Greek poet Homer lived in the 7th century BC. He is shown with his eyes closed. But he was not blind, he was only blind to the external appearance. He saw with the inner eyes of the heart.
---
O power within eternity
R. O power within Eternity:
All things you held in order in your heart,
and through your Word were all created
according to your will.
And then your very Word
was clothed within
that form of flesh
from Adam born.
R. And so his garments
were washed and cleansed
from greatest suffering.
V. How great the Savior's goodness is!
For he has freed all things
by his own Incarnation,
which divinity breathed forth
unchained by any sin.
R. And so his garments
were washed and cleansed
by greatest suffering.
Glory be to the Father and to the Son
and to the Holy Spirit.
R. And so his garments
were washed and cleansed
by greatest suffering.
Hildegard of Bingen, Song 1, translated by SaintMark 

---
In the beginning of the Bible, Genesis 1, 2, we read how God created heavens and earth. But the "earth was formless and empty, darkness was over the surface of the deep..."
Hildegard of Bingen recognizes a deep division here: the wonderful creation of God and the empty earth. This split is once again highlighted in Genesis 2: the gardens and the desert.
Garden - my paradise
Garden in the sense means residence, home, paradise. It is the place where you get together in the evening after work, experiencing the presence of God, means health for body and soul, joy, having enough to eat.
Desert - place of destruction
The desert is only hinted at in Genesis 2 by the plants of the desert (Baldochholzgewächse). Desert is the place of destruction, the place where the devil tried Christ, the place of infertility and starvation, lack, need. It always has the tendency to spread out, to displace the garden.
Work in the garden
How does God - the great doctor - react to the problem? in Genesis 2 how God creates a garden in the desert, plants trees and herbs, and surrounds the garden with rivers for irrigation. We know this principle from other rulers of the time: they planted a garden in the desert. This is how they demonstrated their skills: where nothing actually grows, they enable sowing, harvesting, living and enjoying nature.
In contrast to the rulers of his time, the God of the Bible works himself, lends a hand, because the garden is so important to him. He works in the sweat of his face. After the fall in Genesis 3, he also instructs the man to do this.
The monks adopted this Old Testament work program. Educated intellectuals did not retreat behind their desks. They created gardens, made life and survival possible during the time of the migrations. They contributed significantly to the development of Europe in the beginning of Christianity. The European have to thank them.
---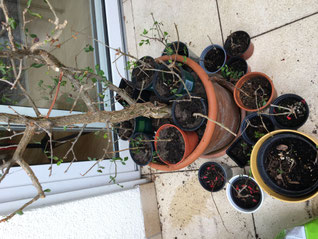 Plant myrrh to turn the desert into a garden.
Learn more from the Bible Gen. 2, 12: The rulers of the time knew the art of turning the desert into a garden. Paradise is also described as a garden surrounded by desert. You recognize it by the remedies of the desert: resin of the thorn bush.
God is working to turn the desert into a garden. We should do the same and plant trees to push back the desert. Many governments recommend a reforestation program. But everyone should try to plant as many trees as possible.
We as a pastor´s family planted 50 trees in the different parishes. Now we have only a balcony and here I plant Myrrh for my garden in Tanzania. 
---
My body - like a garden
The ancient medicine compares the human body with a garden. God transforms the desert into a garden and shapes man from the earth from the fertile field. Our body gives our soul a home, is fertile, has vitality in it, which keeps it health.
My body - like a desert
But here too there are the forces of destruction that take away the vitality of the body: smoking - drinking alcohol - free sexuality outside of marriage - too much work - too many children in a short period of time ... ..So the body becomes a desert, cannot reacting more to remedies - becomes sick.
Work on yourself
Just as God works in the garden, you also have to work on yourself, respect and honor your body, let it be a home for your soul. 
The appreciation of the body belongs deeply to the ancient medicine of the monasteries. The monks lived very healthy and often grew very old.
The monks built their monasteries in the face of the desert to constantly remember their struggle with the desert.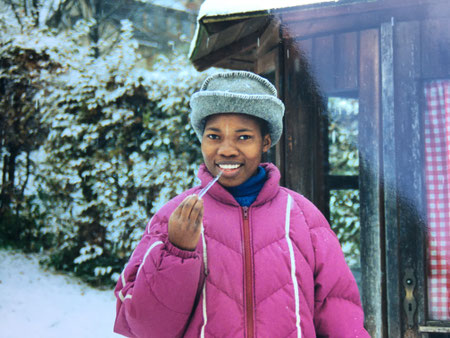 For the doctor Hildegard of Bingen myrrh is as clean and clear as an icicle in the German winter. Since many of you know no snow and ice, here is a photo of our first au pair from TAnzania, who lived in our family for a year.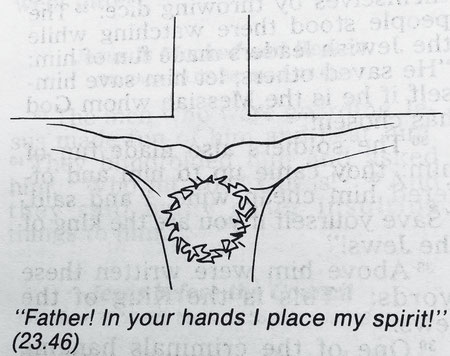 Go into the depth of your heart. The heart of God is seen in the suffering and death of Christ. 
Here you can find the thorn bush in the desert in the crown of thorns. It shows the depth of all destructive powers. The physical and mental cruelties of man are more than all experiences with the desert. So far has it come with man that he kills the Son of God, who died because of love to him.
When you look at Christ on the cross, how he suffered for your guilt, and when you weep the tears of repentance like tears of Myrrh. Here you experience the deep power of healing grace. Repentance is able to dissolve all blockages in your body and clear the way for the healing life force. It can cure you of any illness.
---
Example. A woman from our community was dying. The daughter called the pastor. He went to the bedside and asked the woman if she wanted to receive the Holy Communion. She said yes. He asked if she would go to the sacrament completely reconciled. She had quarreled with her daughter, but she was sorry, and she asked all the children to join the sacrament and forgave everyone.
The pastor was now waiting for him to be called to the funeral. But he didn't hear anything. He met the daughter and asked her about the mother. She replied in astonishment: "My mother? She is not sick. She got up immediately after the sacrament and has been  in good spirits till today." 
---
Myrrh and with it the other balsam plants have the theme of purity. We can see it in the remedy: high-quality myrrh and especially frankincense appear very clear and pure.
From a medical point of view, we understand purity to be hygiene. It is not simply a matter of wiping out impurities, like we wash our hands to remove viruses and bacteria.
Purity is something that belongs to our nature. Our bodies are completely pure and clean on the inside. Impurity means illness. At the beginning of our life at birth, unconditional purity was necessary, otherwise mother and child would not have survived. Childhood is also characterized by purity, or do you put a dirty finger in the mouth of a little baby?
My body is designed for purity. My breath is cleaned in the nose before it descends to my bronchi and lungs. My food is disinfected first in the mouth and then in the stomach. Even my urine is clean.
Purity is a potential in my body that indicates health. It has to be won over and over again. The balsam plants help me to overcome impurity. They work where external hygienic applications such as washing hands do not work deep enough
Hildegard of Bingen, the great doctor of monastic medicine, wrote a song of Myrrh. It remembered her to her childhood of Disibod where she lived.
of Disibod, the chosen one,
a childhood so inspired by God
that later your holiest deeds,
among the miracles of God,
were as if you were exuding
Translated by Pietro Lignola
Prevent viral diseases with myrrh
The Corona Virus causes colds. It penetrates the body through the breath. First it is in the nose and throat area and can attach itself locally to the throat like small granules. At this place right at the beginning of every illness Myrrh fulfills its function: it cleans the mouth - throat from bacteria and viruses. They are caught in the beginning and do not penetrate deeper.
Application 1: Untreated Myrrh
Pound Myrrh into small pieces in a mortar. Put some of it in your mouth, do not swallow it, but let it dissolve slowly.
Application 2: Myrrh tincture
Dissolve myrrh in some drops of alcohol. Shake the solution vigorously or stir with a wooden spoon, dilute to rinse your mouth and gargle.
Application 3: essential oil of Myrrh
Dab affected areas with essential oil.
The applications not only help as a prevention against corona, but also for all inflammations in the mouth - pharynx, e.g. Gum inflammation.
If you don't have myrrh at hand, sticks from the Neem tree perform the same function. Just take a Neem branch and "brush" your teeth extensively with it. Or you put raw Ginger in your mouth.
The whole thorn bush is healing.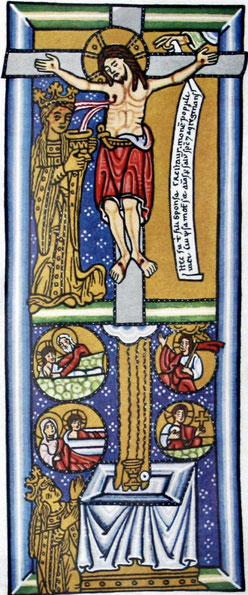 Myrrhe wird namentlich im Zusammenhang mit dem Tod Christi genannt. Alles was Christus berührt - besonders seine letzten Worte und Gesten - ist absolut heilsam, sonst wäre es nicht in die Evangelien aufgenommen worden. 
Christus trägt die Dornenkrone. 
Die Bitterkeit des Todes
Myrrhe erinnert die Christen an die Bitterkeit des Todes Christi. Wie in den Baum wurde auch in Christus eingestochen, als er am Kreuz hing.
O Tod, wie bitter bist du. Sirach 41, 1
 Heilmittel der letzten Stunden
Die inneren und äußeren Verletzungen
Am Kreuz wurde Christus in der Seite verletzt wie Myrrhe. 
Als sie zu Jesus kamen und sahen, dass er schon gestorben war, brachen sie ihm die Beine nicht, sondern einer der Soldaten stieß mit dem Speer in seine Seite, und sogleich kam Blut und Wasser heraus. (Joh 19, 33f). 
 Schon der Prophet Jesaja hat darauf hingewiesen:
Sie werden den sehen, den sie durchbohrt haben (Sach. 12, 10). 
Zeuge der Wandlung zur Auferstehung
Alles, was mit Christus in Zusammenhang steht, ist unglaublich heilsam. Myrrhe gehört im Gottesdienst auf den Altar neben den Kelch.  Sie ist im Räucherwerk, das während des Gottesdienstes verbrannt  wird, gehört zum Salböl, mit denen die Christen der alten Kirche vor und nach dem Gottesdienst gesalbt wurden, sie begleitet Christus ins Grab und ist Zeuge der Auferstehung. 
Es wird verwendet als 
Räuchermittel
Tinktur (in Alkohol)
Pulver
in der Homöopathie
Der bittere Geschmack
Myrrhe schmeckt sehr bitter.  Der bittere Geschmack wirkt auf das Herz. 
Das erste namentlich genannte Heilmittel der Bibel
Myrrhe nimmt eine Sonderstellung ein zwischen Heilpflanzen und Bäumen. Sein Harz ist nach dem Gold das erste Heilmittel, das in der Bibel mit einem konkreten Namen benannt wird. Hier wird ein Heilmittelbild gezeigt, dass sich über einen langen Zeitraum bis zu Hildegard von Bingen durchgehalten hat. Das heißt, es ist von einer langen Erfahrung geprägt. 
Makrokosmos Natur
Die Herrscher der damaligen Zeit zeigten ihr technisches Können und ihr Know How, indem sie in einen Garten anlegten. Sie wählten eine Gegend, die für Gartenbau absolut ungeeignet war. Man denke an die Hängenden Gärten von Babylon. Die Gärten waren von kunstvollen Bewässerungssystemen umgeben. So auch der Garten Eden in der Bibel.
Es ging von Eden ein Strom, den Garten zu bewässern und teilte sich von da in vier Hauptarme. Der erste heißt Pischon, der fließt um das ganze Land Hawila, und dort findet man Gold...Auch findet an da Bedolachharz und den Edelstein Schoham. Mose 2, 10 - 12.
Die Dornensträucher der Wüste wuchsen ganz natürlich in direkter Nachbarschaft zum Paradies,  nur durch das Wasser getrennt. Wir wissen, Wüsten breiten sich aus. Ohne regelmäßige Pflege verwildert ein Garten und verwandelt sich wieder in eine Wüste. 
Natürliche Homöopathie
Alte Kulturen denken nicht technisch. Fließendes Wasser bedeutet natürliche Verschüttelung. In der Homöopathie ahmen wir diesen Vorgang technisch nach. Es handelt sich auf jeden Fall um hohe Potenzen. 
Die Arzneimittelgruppe
Myrrhe ist das zweite Heilmittel, das am Anfang der Bibel mit Namen genannt wird. Das erste ist Gold (Aurum), das Heilmittel der Könige, von Verantwortung geprägt. Zugleich ist es ein syphilitisches, d.h. zerstörerisches Mittel. Das dritte ist der Edelstein Schoham, den ich leider nicht kenne.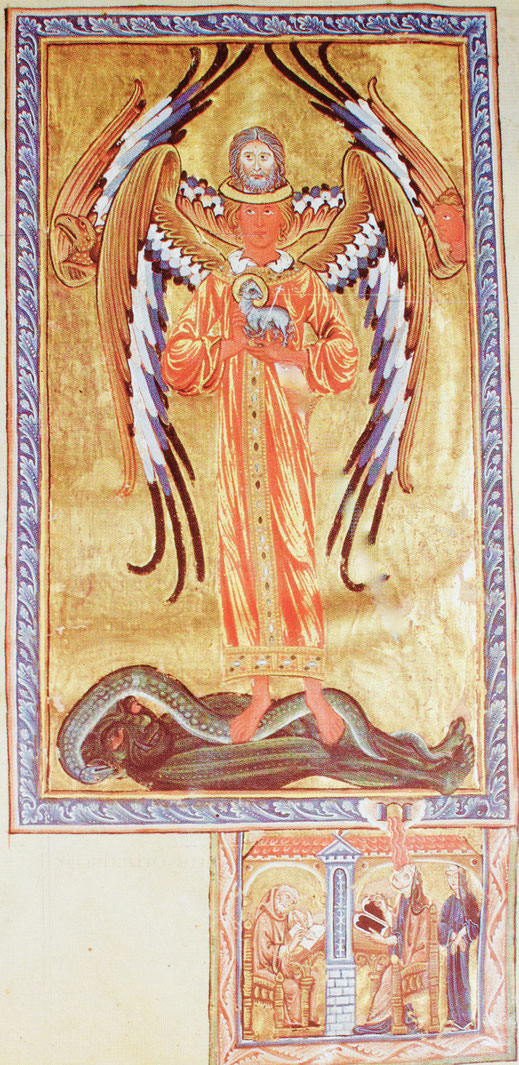 Schauen wir auf Vision 1, so sehen wir oben im Bild Amrum als ein goldenes Kreisen zwischen den Häuptern von Vater und Sohn.  Es trägt in sich die Königliche Macht. Aber hier hat der König seine Macht dem Sohn übergeben. Hier sieht man eine andere Eigenschaft des Goldes: seine Tendenz nach unten, sich hinzugeben, wie ein Hirte zu werden. 
Man erkennt unten die Zerstörung. 
Myrrhe ist hier nicht zu sehen. Aber diese Pflanze schwingt mit. 
Edelsteine besetzten das Gewand Christi. Sie bilden zusammen ein Kreuz, denn sie setzen sich im unteren Bild weiter fort, nun erkennbar als Saphir. 
Mikrokosmos Mensch
Nach biblischen Verständnis ist der Mensch entnommen aus Erde und dem Staub der Wüste. Sein Körper gleicht der Erde. Im Bild wird das ganz klar deutlich.
Die Situation der Wüste erkennt an an der Schlange. Sie weist hin auf einen Abgrund, der sich hier im Angesicht des Todes auftut.
Die Menschen in ihrem Haus zeigen die Kunst, mit Erde umzugehen. 
Myrrhe ist hier eine Arznei im Angesicht des Todes. Sie hilft im täglichen Leben, die Grenze zur Wüste zu kontrollieren und bewachen, an sich selbst zu arbeiten. Sie ist ein wichtiges Reaktionsmittel. Mein Körper kann besser auf das schöpferische heilende Handeln Gottes reagieren. 
Praxis: Ich beginne eine Behandlung mit ein paar Kügelchen Myrrha D 4 und gebe sie meinen Patienten zur täglichen Einnahme mit. 
Der Antikönig der Richterzeit
Die Fabel über die Bäume
Die Bäume gingen hin, um einen König über sich zu salben, und sprachen zum Ölbaum: Sei unser König….Aber Ölbaum, Feigenbaum und Weinstock wollen sich nicht salben lassen. ..Da sprachen alle Bäume zum Dornbusch: Komm du und sei unser König! Und der Dornbusch sprach zu den Bäumen: Ist´s wahr, dass ihr mich zum König über euch salben wollt, so kommt und bergt euch in meinem Schatten; wenn nicht, so gehe Feuer vom Dornbusch aus und verzehre die Zedern des Libanon (Richter 9, 8ff).
Die Dornenkrone
Der Einzug in Jerusalem. Die Menschen nahmen Palmzweige und gingen Christus entgegen, als er in Jerusalem einschritt. ...Die Pharisäer sprachen untereinander: Ihr seht, dass ihr nichts ausrichtet; siehe, alle Welt läuft ihm nach.(Joh 12, 17)....
Kurze Zeit später:
Da nahm Pilatus Jesus und ließ ihn geißeln. Und die Soldaten flochten eine Krone aus Dornen und setzten sie auf sein Haupt und legten ihm ein Purpurgewand an und traten zu ihm und sprachen: Sei gegrüßt, König der Juden! und schlugen ih ins Gesicht. 
Da ging Pilatus wieder hinaus und sprach zu ihnen: Seht....ich finde keine Schuld an ihm. Und Jesus kam heraus und trug die Dornenkrone und das Purpurgewand. Und Pilatus spricht zu ihnen: welch ein Mensch.
Als die Hohenpriester und Knechte ihn sagen, schrien sie: Kreuzige! Kreuzige! (Joh 19, 1-6)
Die Grablegung
---
Der Dornbusch sieht die Engel
Engel sind nach Hildegards Bibelauslegung erste Schöpfung Gottes. Sie zeigen die Gegenwart des Schöpfers und seiner Ordnung an. Dabei fällt auf, dass der Dornbusch in Zusammenhang mit Schafen vorkommt. 
Abraham und der Widder unter dem Dornbusch
Diese Geschichte wird von Hildegard in Vision 1 erzählt. Sie ist weg weisend.
Die nächste Geschichte schwingt unsichtbar mit: 
Der brennende Dornbusch
Mose hütete die Schafe Jitros, seines Schwiegervaters, des Priesters in Median. Er trieb die Schafe über die Steppe hinaus und kam an den Berg Gottes, den Horen. Und der Engel des Herrn erschien ihm in einer feurigen Flamme aus dem Dornbusch. Und er sah, dass der Busch vom Feuer brannte, aber nicht verzehrt wurde. Da sprach er: ich will hingehen....Gott sprach: Tritt nicht herzu, zieh deine Schuhe von deinen Füßen; denn der Ort, da du stehst, ist heiliges Land. ...
Und der Herr sprach: Ich habe das Elend meines Volkes in Ägypten gesehen...und ich habe ihr Leiden erkannt. Und ich bin herniedergefallen, dass ich sie errette aus der Ägypter Hand. ....(2. one 3, 1ff)
Gott erscheint Mose im Dornbusch. Er, der große Arzt des Alten Testaments,  wird aktiv und will helfen und heilen. Die Wandlung ist nicht durch Gewalt herbeigeführt, sondern durch das Gebet des Volkes.  
---
Die Tränen der Reue
Das Harz Myrrhe sieht aus wie Tränen und erinnert an die Tränen der Umkehr und Reue. Diese Tränen kommen direkt aus dem Herzen und schwemmen allen Unrat heraus. Die Reue ist das größte Heilmittel der Kirche. Sie ist nicht nur psychologisch wichtig. Sie hat die Kraft, jede Stagnation im Körper zu beheben (HvB).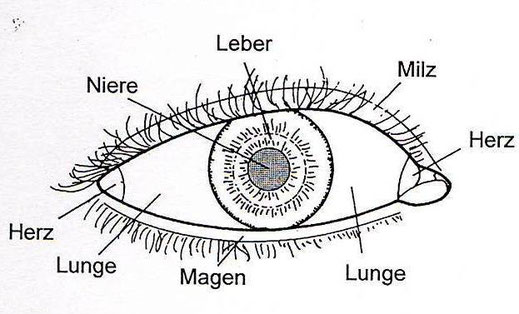 Ein Bild aus der Traditionellen Chinesischen Medizin zeigt die medizinische Entsprechung. Der bittere Geschmack trifft das Herz. Es öffnet sich in das Auge. Tränen zeigen die Reinigung des Herzens. 
Deine Kleider sind lauter Myrrhe (Psalm 45, 9)
Ich habe mein Lager mit Myrrhe besprengt (Sprüche. 7, 17)
Cave! Nicht direkt am Körper tragen!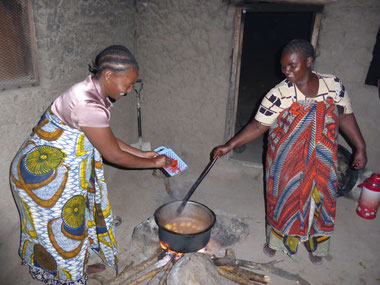 Myrrhe macht Öle länger haltbar (konservierende Wirkung)
Myrrhe war im Salböl des Hohenpriesters (2. Mose 30, 22-25)
Myrrhe gehörte selbstverständlich zum Nardenöl der Maria Magdalena
Myrrhe gehört zum Salböl der christlichen Kirche (Jak 5, 14f). 
---
Myrrhe gehört zu den Geschenken der Afrikaner (Weisen aus dem Morgenland) zur Geburt Christi. Mt 2, 11
Sie sind ein wichtiges Mittel für Mutter und Kind. In ihrem Wirkungsspektrum liegt besonders die Bitterkeit vieler Geburten wie im Fall Christi in einem Stall. 
Es hat sich in meiner Erfahrung sehr hilfreich erwiesen für Frauen in der Bitterkeit des Allein gelassen Werdens in der Sorge um die Familie. 
---
Ich dufte wie die beste Myrrhe (Sir 24, 20)
Myrrhe gehört zu den Pflanzen, mit denen Tote einbalsamiert wurden. Es ist darum ein wichtiges Anti Aging und Schönheitsmittel und glättet die Haut auf natürliche Weise. 
---
---
Heilende Wunden
Warum bin ich so sehr betrübt
und verwirrt in meiner Seele,
da ich doch durch die Gnade Gottes
mit Seufzen und Tränen die Sündenwunden 
zu tilgen imstande wäre?
Durch die Verwundungen dein, mein Herr,
der du Tränen und Lanze
für meine Sünden erduldet hast,
hoffe ich auf Erlösung (HvB).